About Me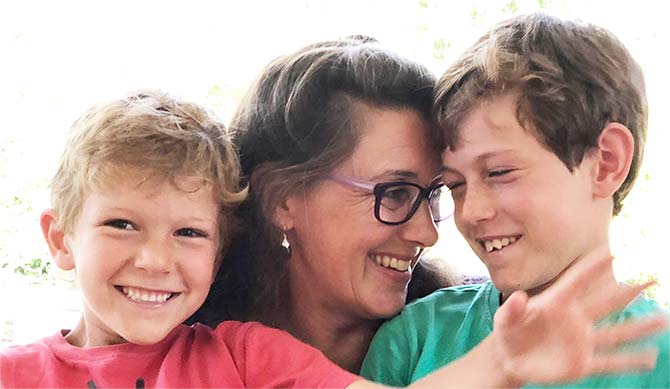 Why I'm a Sleep Consultant
I am Emily Nurse, an experienced and accomplished sleep consultant who is passionate about working with families to solve children's sleep issues, gently and quickly.
So, let me tell you why I'm so enthusiastic about getting your child on the right track with sleep… I have two young sons who now sleep brilliantly, but I remember all too clearly the first two years of sleepless nights, when I tried so many different things to get our eldest son to sleep, none of which worked and just made us all increasingly frazzled.
Sleep deprivation really took it's toll on all aspects of my life – I was too exhausted to really 'enjoy' my son and was not always able to be the parent I wanted to be. I felt stressed and overwhelmed, my relationship with my partner suffered, I lost confidence in myself, my abilities and my decision making, I put on weight, I became an insomniac… the list goes on and on.
I also remember falling into despair when our second son began the same pattern of sleepless nights at six months old, after two glorious weeks of him sleeping through. It was then I found a sleep consultant, followed her plan to the letter, and Bingo! Our son slept through on the third night and regular naps followed. We applied what we had learned to our older son and his sleep improved dramatically too. My life, and the life of my family, was transformed. So for me, this is personal.
I vowed at that time to bring this life changing process to others and so a few years later I trained to become certified with that same Sleep Consultant (the internationally renowned Karen Bramall from Baby Sleep the Night TM) and now dedicate my working life to transforming awful nights into Dream nights! My methods build on the many strengths and successes of the Baby Sleep the Night TM methods, whilst encouraging parents to be even more involved in the development of the bespoke Sleep Plan for their child or children and providing daily support and guidence throughout the whole process.
I am very aware of my responsibilities to the families I work with, so I am fully DSB (the new CRB) cleared and fully insured.
As a working mother of two boisterous boys I am also aware of how busy family life can be, that is why I ensure that I am available to provide my clients with Consultations and Follow-ups in the daytime, evenings and weekends. Make an appointment for a FREE no-obligation 20 minute Consultation.
My Dream Nights approach to sleep consulting
I work in a nurturing, client centered and solution-focused way which my clients compliment me on. I respect that each family has different parenting styles and/or priorities and that parents know their child best, so I work collaboratively and encourage parents to decide as many aspects of their sleep plan as possible.
I love a challenge and am proud of the 100% success rate for families that stick to their sleep plan.
If you are looking for a caring, tenacious and dedicated sleep consultant then book a FREE 20 minute assessment with me, Emily NOW. I'm looking forward to starting your family's journey to peaceful nights.
My background
Clients often ask about my previous careers, so here they are in a nutshell for you.
I have a BSc and MSc in Sociology, I also hold a CAES in 'Psycho-sexual Therapy and Counselling' and numerous other counselling qualifications.
For all my adult life I've worked to explore and understand people's personal choices and behaviour. First as a research social scientist at the University of Southampton (Department of Psychology) and as a freelance Qualitative Research Consultant. Then for the next 15 years, I used these skills, and others, to successfully help people make difficult behavioural changes in their lives as a Specialist Health Promotion Outreach worker for the NHS.
I love channeling these skills into Sleep Consultancy. I bring my research skills and academic rigour to analyse what the issues are for your child, and then in collaboration with you, create the gentlest and most effective solution for your child, and for you.